Flaky Apple Pie Pizza
Our delicious twist on apple pie is simple to make and a huge hit at our house in three easy steps. We use a cheese base and top ours with our oat streusel and drizzled caramel over top; you'll definitely want to have your dessert first!
INGREDIENTS
OAT STREUSEL(recipe below picture carousel)
Puff pastry dough we use Alfa pastry dough which is a delicate Fillo Puff
2 to 3 apples corded and sliced to a thickness of ¼ to 1/8 of an inch
Cinnamon sugar to taste
Cheese topping: 1 brick of cream cheese blended well with ¼ cup of cinnamon sugar until well blended (we use Neufchatel; in our opinion it just tastes better and richer and creamier)
Optional: Use ground or finely slivered almonds/pecans to top the apples or your favourite nut product
DIRECTIONS
Heat oven to 375F
Line a pizza pan with parchment paper; you may need to get creative and do some cutting to make a circle out of your parchment paper.
You can use a round pizza pan or to make life easier use a cookie sheet to create a slab pizza.
Roll out dough to a thickness of 1/8 to ¼ inch thick.
Spread the cheese mixture evenly on the crust.
Pat dry the apple slices and either toss in cinnamon sugar or sprinkle on top of the apples after you've covered the cheese with apple slices.
Top with streusel until all the cheese and apple slices are covered; using your hand as a guide along the edge of the pan to insure the streusel makes it right to the edges of the crust.
Place your pan in the center of the oven and bake for 20 to 25 minutes until golden brown. The apple pizza may look like a deep dish pizza when you pull it out of the oven however it will 'deflate' as it cools.
Serve with a drizzle of caramel sauce and a side of ice cream and enjoy!
Enjoy our step by step picture guide below.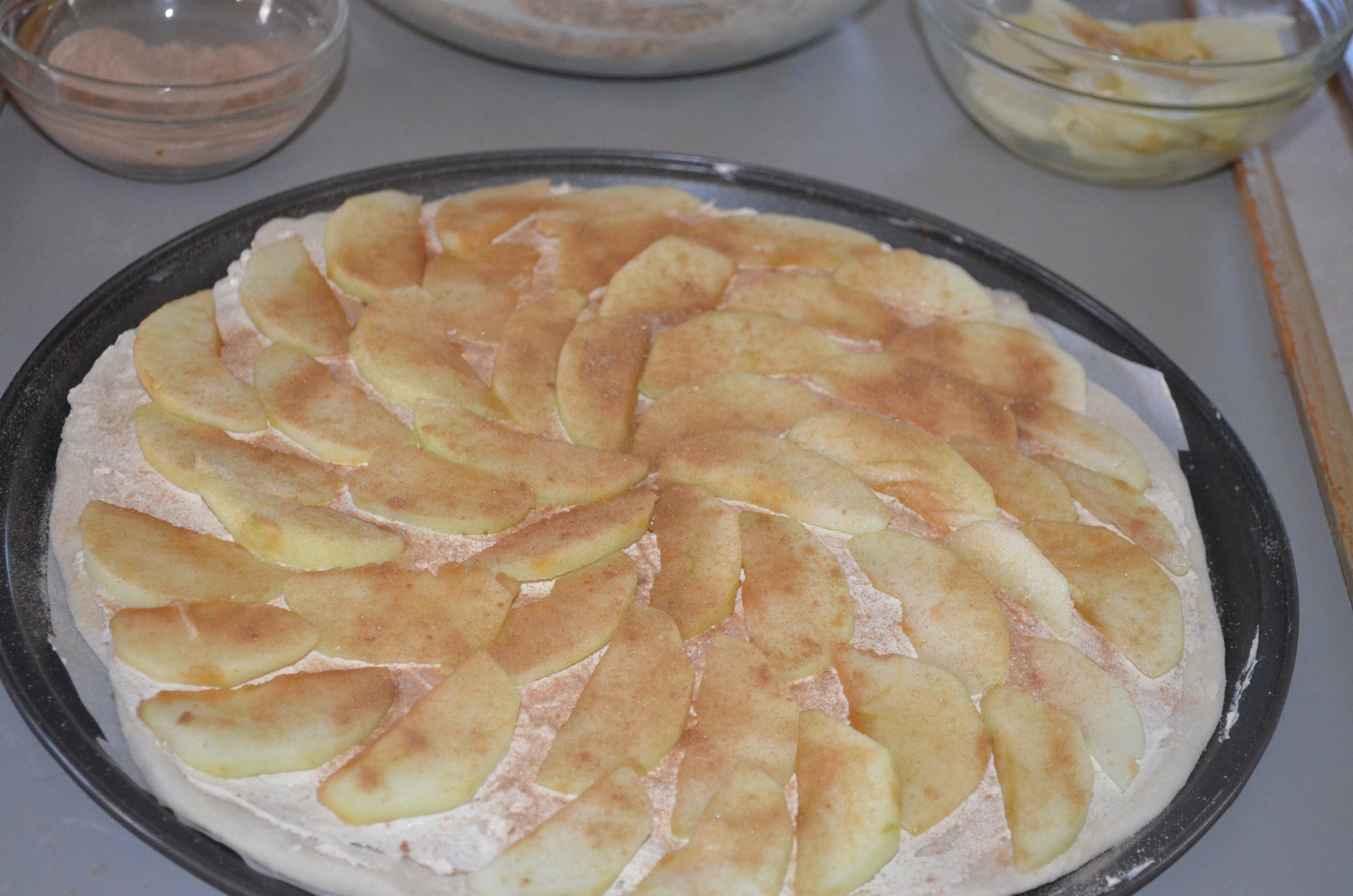 OAT STREUSEL
INGREDIENTS
½ cup of butter
¼ to ½ cup of quick oats
½ cup of white or brown sugar
1 cup flour
DIRECTIONS
Combine all ingredients into a bowl; using a pastry cutter or a large fork work the ingredients together until they resemble a fine crumble; use as a topping on all your favourite baked goods.