Meatballs Stuffed with Mozzarella Cheese
What is more satisfying than a nice plate of spaghetti and meat balls for dinner served with crusty Italian bread to soak up the sauce on your plate, a nice garden salad and a glass of wine? My dearly departed Italian mother in law perfected the meatball! My oldest son was just a toddler when she passed and he may not remember too many things about her but he remembers her meatballs, whether she gave him a sample while she was frying them or served simmered in her delicious tomato sauce, he would gobble them up quickly! He's often said over the years that he hasn't had a decent meatball since she left us. I've stood by her watching her prepare them and yet never mastered them quite as well as she did. I've heard they're good, but they're not Nonna's (grandmother in Italian). The only thing I can think of what made hers stand out is that they were made with a unique grandmothers love for her grandchildren. That special love between a grandparent and a grandchild is certainly what made her meatballs so special and helped preserve her memory over the years. We make meatballs on a weekly basis and I swear after all these years, each batch that I make gets scrutinized and compared to Nonna's.
I live in a home with cheese lovers so our meatballs are extra savoury with Mozzarella inside them; just bite into one and you get an explosion of delicious creamy Mozzarella Cheese tantalizing your palate.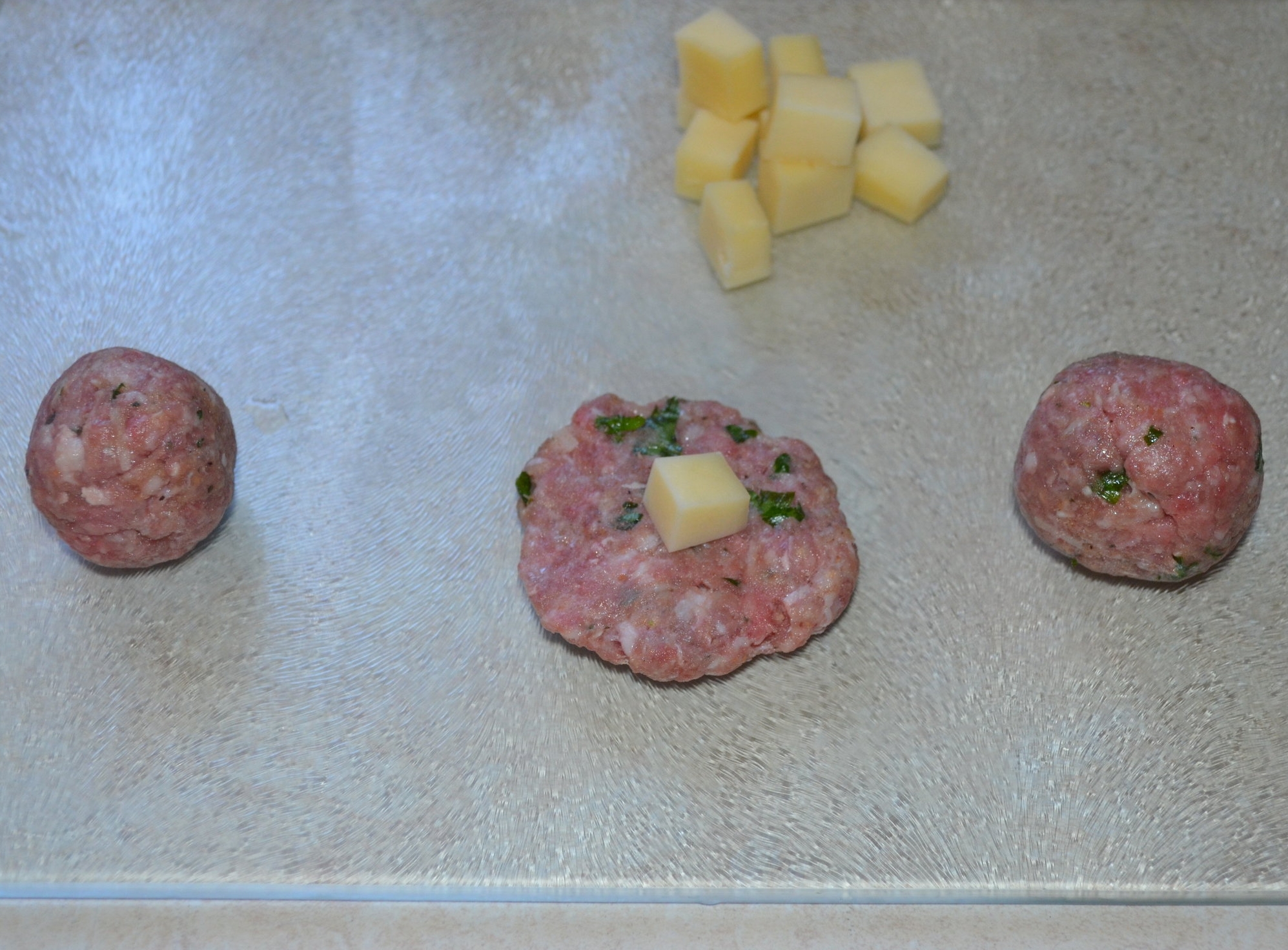 Meatballs Stuffed with Mozzarella Cheese
A triple mix of delicious ground meats filled with creamy, cheesy goodness.
Ingredients
1 lb

Lean ground beef

1 lb

Ground veal

1 lb

Ground pork

1 to 1 1/2 tsp

Salt

1/2 to 1 tsp

Pepper

1

Medium minced onion

1 to 2

Minced garlic cloves

1 to 1 1/2 tsp

Italian Seasoning

1/4 cup

Freshly chopped parsley

1 large

Egg

1 to 1 1/2 cups

Bread Crumbs

1/2 to 1 cup

Grated Parmesan Cheese

1 lb

Mozzarella Cheese cubed in ½ inch cubes

enough to coat frying pan

Vegetable oil

large pot full; see recipe at http://creativelifestyle.ca/sauces/2017/2/5/marinara-sauce

Marinara Sauce
Instructions
1. Combine ground beef, veal and pork.
2. Add all the ingredients except for the Mozzarella Cheese, mixing well. If you have to get your hands in there and knead the meat mixture until well combined. If you find that the mixture is too dry you can crack open an egg and give it a quick scramble and slowly add it in to moisten the mixture. If the mixture is too wet add in extra bread crumbs to dry it a bit ~ meaning not so sticky. *The mixture will be sticky to some degree due to all the ingredients but you want it such that you're able to roll the mixture into balls.
3. Once the mixture is well combined start by grabbing about a golf ball sized handful, you may want to wet your hands slightly so that rolling the balls is easier. You want the balls nice, tight and firm.
4. Once you've rolled your perfect meatball, flatten the meatball and place a cube of Mozzarella Cheese in the center and resume rolling the mixture back into a firm ball.
5. Heat vegetable oil over medium heat, when the temperature is around 350F (the oil will start to fizz and crackle so you know the oil is ready).
6. Place the meat balls into the hot oil and fry on all sides; you can gently shake the frying pan and the meatballs will bounce around the pan.
7. Drain and cool on paper towel or a drain basket.
8. Place cooked meat balls into your prepared Marinara Sauce and simmer over low heat for 1 to 2 hours.
9. Place strained meatballs in a family sized bowl or scoop out several and pour over spaghetti or your favourite type of pasta ~ don't forget to top off your dish with some freshly grated Parmesan Cheese.
10. Enjoy!
Details
Prep time:
Cook time:
Total time:
Yield: