Streusel Topped Individual Peach Pies
As long as I can remember the joy and anticipation for that first perfectly ripe peach was one of the highlights of summer from a food standpoint. I can't think of another fruit that the perfect balance of taste and enjoyment like the mighty Peach! Our recipe is simple with basic fresh ingredients and not a lot of added flavours leaving the Glorious Peach to be the star of the show! Special thanks to my husband for his willingness to roll up his sleeves and do most of the work while I shot all the images! Not bad for his first pie making experience! This recipe makes 5 individual pies or 1 really juicy 10 inch pie.
PIE CRUST
INGREDIENTS
2 cups sifted flour
2/3 cup chilled vegetable shortening
1 tsp salt
Icy water as needed
DIRECTIONS
Mix sifted flour, shortening and salt together until it resembles a fine crumble (a food processor is helpful) add a table spoon of icy water at a time while kneading it into a ball; less is more so be careful not to add too much, you just need enough to knead it into a nice ball. Wrap tightly with plastic wrap and refrigerate until ready to use.
Dust surface with flour and roll out dough to a thickness about 1/8 inch thick.
Since our recipe is for personal pies we used small aluminum pie plates and cut the pie dough about a ½ inch wider than the top circumference allowing for plenty of dough to fill the plate. We used nonstick spray first to insure we don't have an issue when plating. Insuring the dough comes over the tops of the plate we simple ran fork prongs around the perimeter to insure uniformity.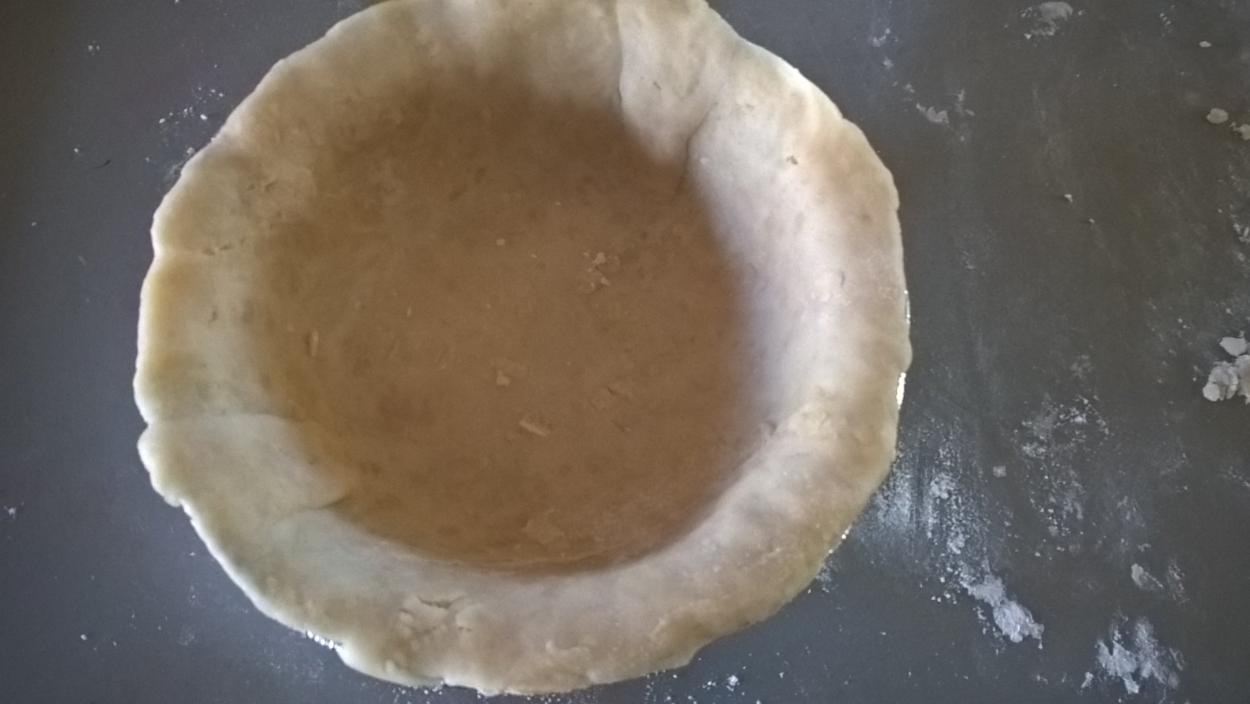 STREUSEL TOPPING
INGREDIENTS
¾ cup of white or brown sugar
¾ cup flour
¼ cup of softened butter
Optional: 1 tsp cinnamon ¼ cup of quick cook oats
DIRECTIONS
Combine all ingredients together and work them together until they resemble a fine crumble. Sprinkle over top of pie filling insure the streusel covers the filling well.
PEACH PIE FILLING
INGREDIENTS
5 cups of freshly sliced blanched peaches (you can use canned peaches off season, excluding the syrup)
Juice of 1 lemon or about 1 tbsp lemon juice
¼ to ½ cup sugar (dependent on preference and sugar content of peaches)
1/2 tsp cinnamon or nutmeg
1 tsp vanilla
3 tbsp Softened butter
3 tbsp flour
DIRECTIONS
Combine all ingredients into a bowl mixing well insure the peaches are well coated. Once all the ingredients are combined they'll release a lot of juice; that's ok, it will make them yummy and will thicken while baking.
ASSEMBLY
Fill the pie plates almost to the top rim. Blot with about 3 or 4 pieces of butter.
Top with streusel topping and back for about 35 to 40 minutes at 350F or until deliciously golden brown and the filling is nice and bubbly.
Serve with ice cream or on its own ~ it's delicious ~ enjoy!